Casey Kaplan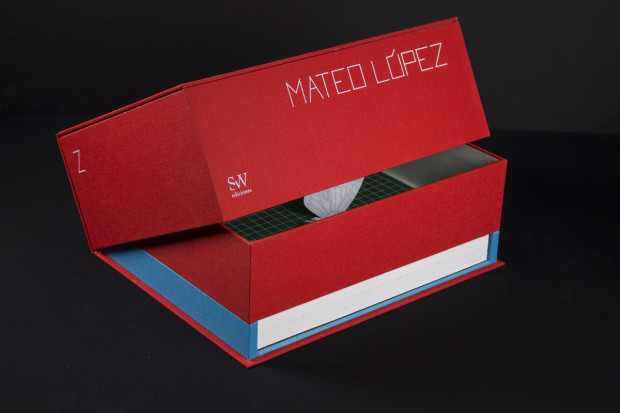 Mateo López, XYZ, Artist Book, 2015. Limited edition of 30 with original artwork. Published by S/W Ediciones
BOOK LAUNCH: MATEO LÓPEZ XYZ
FRIDAY DECEMBER 11, 4 – 6 PM AT CASEY KAPLAN
The artist will be joined in conversation with Senior Curator Claire Gilman of the Drawing Center on the subject of López's current exhibition: A Room inside a room, on view at Casey Kaplan through December 19.
Mateo López's XYZ, an artist book published by S/W Ediciones in a limited edition of 150 and a deluxe edition of 30, all signed and numbered by the artist, operates in part as an archive of plans and diagrams applied in the construction of the artist's paper sculptures, and as insight into the inner-workings of the logic applied within each tactful maneuver. With every skillfully crafted sculpture or work on paper, intent subsists within the subtlety of a predetermined line or fold. In revealing the technical and foundational support established in the process, the pages of the book exist in and of themselves as distinct works on paper, pulling the viewer into the mechanisms of López's psyche. Enclosed inside each individual edition rests a single cutout piece of paper taking shape in varying formations, such as a butterfly or a pair of eyeglasses; an extraction removed from the book itself is translated into an ethereal artifact waiting to be uncovered. Special thank you to Ana Sokoloff at S/W Ediciones.
Book specifications (for both Deluxe and Limited editions):
Fifty-six pages, french-folded screen printed cover
Fifty-four images printed in archival ink, based on artist's pencil drawings
The closed case size is 8.5 in. wide x 10.5 in. high x 1.25 in. deep
The cruciform case is handmade with a lace tie
Deluxe Edition with Original Artwork:
Handmade clamshell case is screen printed
The case's upper box holds one cutout sculpture pinned to a screen printed sheet
The case's lower tray holds the book
The closed case size is 9.25 in. wide x 11.75 in. high x 4.5 in. deep
Mateo López (b. 1978, Bogotá, Colombia) is currently included in the exhibition United States of Latin America, curated by Jens Hoffmann and Pablo León de la Barra at the Museum of Contemporary Art Detroit through January 3, 2016. His work has been exhibited internationally, having presented solo exhibitions at the Museo de Arte Moderno, Medellin, Colombia (2014); The Jerusalem Center for the Visual Arts, Jerusalem and Tel Aviv, Israel (2012); Gasworks, London (2010); and Museo de Arte Contemporáneo de Castilla y León (2009). In 2013, López was featured in the exhibition "A Trip from Here to There" at The Museum of Modern Art, New York, an exhibition centered around his work by the same title, curated by Jodi Hauptman and Luis Pérez-Oramas. The artist has also participated in past group exhibitions including The Drawing Room, London (2015); The Museum of Fine Arts, Boston (2013); 43 Salon Nacional de Artistas, Colombia (2013); Mercosur Biennial (2011); and 29 Bienal de Sao Paulo (2010). López is included in numerous public collections including the Museum of Modern Art, New York; The Berezdivin Collection, Puerto Rico; Inhotim, Minas Gerais, Brazil; Banco de la Republica, Biblioteca Luis Ángel Arango, Bogotá, Colombia; Bienal de Cuenca, Ecuador; and CIFO, Cisneros Fontanals Art Foundation, Miami, FL. López is slated to open a solo show at The Drawing Center, New York in January of 2017.