Casey Kaplan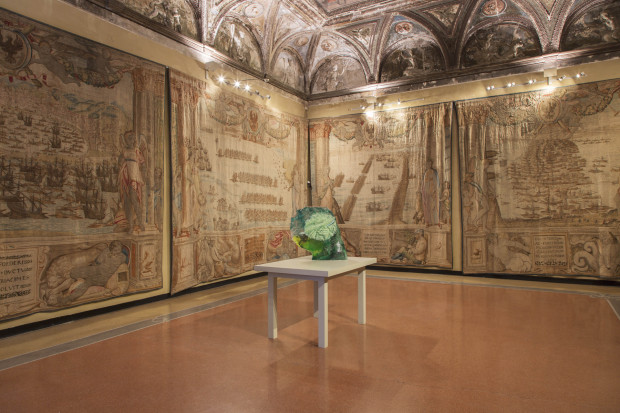 DIEGO PERRONE: WAR GAMES at MUSEO D'ARTE CONTEMPORANEA VILLA CROCE, GENOA
CURATED BY FRANCESCO GARUTTI
MAY 26 – JUNE 23, 2017
The Museo D'Arte Contemporanea Villa Croce is pleased to present WARGAMES, a site-specific work by Diego Perrone, realized as the first edition of the Davanti Al Mare project.
Conceived and directed by Vittorio Dapelo, and produced by the Museo D'Arte Contemporanea Villa Croce in Genoa, "DAVANTI AL MARE – ATTO I" is an experimental and open format project. Thought to be an expanded residency, the project investigates Genoa's environment as a metaphorical and physical production space. "Davanti al mare" is presented to the public as a zone where an artist, in collaboration with a curator and publisher, constructs a site-specific work and produces an artist book using the museum's atmosphere, and the architecture and landscape of Genoa as inspiration.
In direct relation with the weave and warp of the sea and military scenes of the Battaglia di Lepanto tapestries on display in the Sala del Naufragio, Perrone's piece, opaque and transparent, liquid and sculptural, observes and references the images embroidered onto the Lepanto series. Fragments of boats and oars, allegorical animals and coastal landscapes are reflected ambiguously on Perrone's newest sculpture.
From the ear and the cranium of the bas-relief in glass by Diego Perrone, two little hands emerge clasping a model of a navy ship. Between the cerebellum and the ear, by the part of the skull called the 'temporal fossa', objects and liquid dreams melt: a military ship as an involuntary and accidental memory, a miniaturized model maker finds himself among the hulls and embroidered weapons of the Lepanto tapestries.
WARGAMES takes its start from the desire to set up an encounter between the concave and convex, the dense and extended ideas of space typical of Perrone's work and the city of Genoa, a place able to boost and expand the shape and the thought of it. WARGAMES takes form with the intention of building up a space where "miniature and mania, dream and violence" get close and touch each other.