Casey Kaplan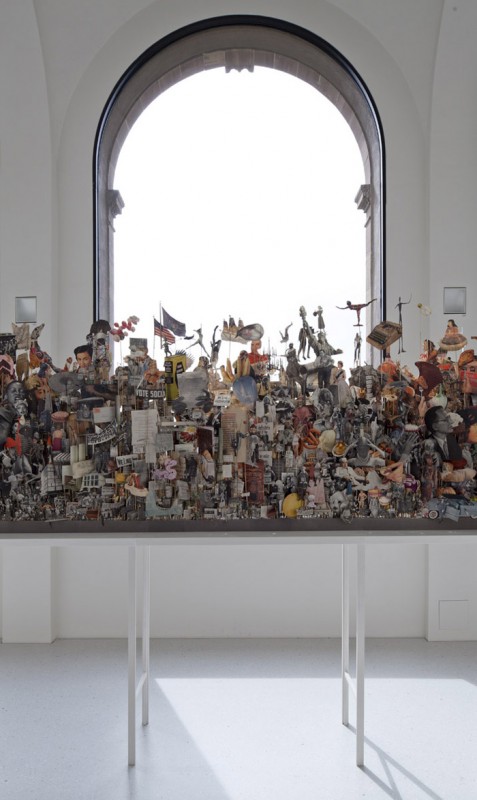 Geoffrey Farmer, Leaves of Grass, 2012 Installation view at Neue Galerie Kassel Commissioned and co-produced by dOCUMENTA (13) / photo Anders Sune Berg
GEOFFREY FARMER DISCUSSES HIS DOCUMENTA HIT, LEAVES OF GRASS
Neue Galerie, Kassel June 9 to September 16, 2012
Geoffrey Farmer's Leaves of Grass is one of the big hits of dOCUMENTA (13). Toronto critic Rosemary Heather caught up with the Vancouver artist by email to ask about the inspirations, processes and resonances behind the astonishing work—which, as Farmer noted, ended up surprising even himself.
Rosemary Heather: There's quite a story behind the making of Leaves of Grass. The work features a great number of figures cut out from the pages of Life magazine that have been mounted on dried-grass sticks. Someone told me there were 30,000 figures, but you have amended that, saying it's closer to 16,000, which is still a huge number. Can you tell me a bit of the backstory here?
Geoffrey Farmer: The collection of Life magazines came from the Morris/Trasov Archive. They (Michael Morris and Vincent Trasov) knew that I had been working with image collections, and about three years ago they asked if I might be interested in it. There were approximately 900 magazines in the collection, spanning five decades, from 1935 to 1985. In the beginning, Life was a weekly; in 1978, it became a monthly. So we had a lot of magazines from the 30s, 40s and 50s. We had fragments—a few pages—from 1935, and then complete copies after that. This includes the first issue that had Time co-founder Henry Luce as publisher; he bought it in 1936 and changed it to a photojournalistic format. The last issue we had, from 1985, was on AIDS.
In Kassel, the work is displayed on the second floor of the Neue Galerie in the loggia, which is a long, sculptural corridor with huge arched windows overlooking the park. The view brought to mind the miniaturization of the world. I was already thinking about how photography has a tendency to make sculpture, and I liked this in relationship with the loggia. The piece is in chronological order and is displayed on a 124-foot table, which is viewable from both sides. There are 16,000 figures, and each figure has two sides. Although the image arrangements may appear chaotic, I took great care in their placement.
During my studio visit with dOCUMENTA (13)'s curator, Carolyn Christov-Bakargiev, we talked about Paul Klee's drawing Angelus Novus and Walter Benjamin's essay "On The Concept of History." I showed her a film made in 1961 by Arthur Lipsett, Very Nice Very Nice. In it, he uses images from Life, as well as found film footage and sound clips, all montaged together. It contained a quality I wanted to find for the piece. I mentioned to Carolyn that he committed suicide a few weeks before his birthday in 1986. She was curious as to what was happening in the world around the date of his death. So we were looking at timelines, and I began to think about chronology as a composition.
It was a gruelling project, but I wanted to be transformed by the experience. In the last few months, we had about 90 volunteers helping us. We had quotas to keep. We worked in shifts. There was a small group of us who, in the end, I think, were working 20-hour days. I was amazed at the generosity of everyone working on the piece. It was a communal experience. A lot of conversation happens when you are sitting together working around a table. If someone didn't agree with the image selection or strongly felt an image should be included, they would hold the image up for a vote. We had meals together, a fantastic cook and friend came in to make lunches and dinners. I wasn't expecting the piece to grow in the way that it did…