Casey Kaplan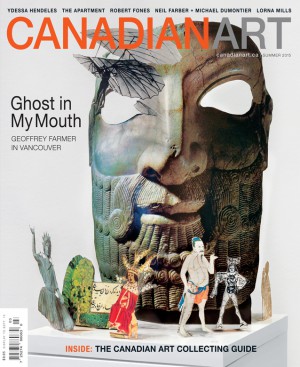 Geoffrey Farmer on the cover of Canadian Art Summer Issue
Geoffrey Farmer's Salvage Economy
BY AMY LUO
Geoffrey Farmer is used to looking back. The Vancouver artist is something of an archaeologist: he surveys cultural terrains for images, text and sound, and presents the artifacts in evocative ways that trigger both recognition and estrangement. In 2012, Farmer attracted international attention at Documenta 13 with Leaves of Grass, a 124-foot stretch of an installation composed of Life magazine cut-outs spanning six decades and 1,005 issues in 16,000 figures. On home turf in 2013, Farmer was awarded the prestigious Gershon Iskowitz Prize in recognition of his significant contribution to the visual arts in Canada. Presented with the opportunity to exhibit at the Art Gallery of Ontario as part of the honour, Farmer installed computer-programmed light and audio systems in the gallery's Henry Moore Sculpture Centre, staging a series of choreographed vignettes that jolted the plaster sculptures from their calcified gravity.
This year, Farmer's mid-career survey at the Vancouver Art Gallery called on him to tackle his own past. This involved confronting an accumulation of 15 years' worth of works, many of them elaborate multimedia installations, and some process-based with shifting form. The show's title, "How Do I Fit This Ghost in My Mouth?", articulates this daunting task, but in that question is also a glimmer of the ethos of wonder that sparks Farmer's artmaking. For the most part, says Farmer, past work looks like a pile of wreckage, but the litter holds a few nice surprises, and even encouragement for future work.
AL: Your works and exhibitions often have playful and allusive titles. Can you talk about the title of your survey show, "How Do I Fit This Ghost in My Mouth?"
GF: There is a story about the library of the Warburg Institute, when it was in Hamburg in the 1920s, that when you asked for a book, they would give it to you, but they would also give you three or four others that were considered friends of your book. To me, this expresses a kind of cosmological thinking that feels similar to my process of conjuring up a title. I think of the titles as something that will govern the material that constitutes the work, as if the components were like celestial objects. I look for a title that creates the right atmospheric conditions to create an electricity to spark the engine of the work. I sometimes describe it as the sound of an engine starting. That is when I know it's the right title. "How Do I Fit This Ghost in My Mouth?" appeared spontaneously in a sketch one day. It felt humorous, but it is also deeply intentional and expresses the way I am imagining text stepping forward in my work. It is a proposition of my engagement and has to do with the active process I have undertaken in remembering the work for the survey. I want it to feel personal and I want it to represent my awakening to the understanding of the relationship of knowledge to my body. I wanted it to be humorous, because without humour, we can't defy our own authority—or authority period.
AL: What has the experience been like to look back at 15 years of your own creative work in preparation for the show?
GF: Looking back makes me feel uneasy, because my work appears to me as wreckage. This is often why my works are continually being developed or transformed. I think it is important, though, to confront past work, to stare straight through it, because it is never what you imagined it to be anyway. But something happens when you stare it down, crack open a window and jump through into the possibility of something different. It is a form of necessary critique, as everything you will know as your future grows out of it. There are a few works of mine from the past that are like kind strangers, encouraging me to believe in the possibility of making good work. This is always a nice surprise.
AL: Has this confrontation with past work, however uneasy, affected your current thinking or activities in any way?
GF: I never realized that I had produced texts for each of my works. When I looked back at them, they were the parts of the work that made me think, "Yes, this is how I want my work to feel." I liked them. I hadn't really ever thought of them as work, and so there has been this epiphany, that perhaps they are the work. And there has been a process of going back, sifting through the wreckage and rescuing them.
AL: Are the texts accompanying some of your works also intended to function, like you said of the titles, as "friends"? I am thinking of the notes accompanying works like The Last Two Million Years (2007) or Boneyard (2014). Those texts are certainly not didactic; to me, they are not exactly texts on or to the visual work, but with.
GF: The work is a reason to make the texts, and vice versa. That is what I realize now, while writing this, and so this exhibition is about writing and the role it plays in my work. The texts don't necessarily have to be written by me, but as you say: the texts are with the work and they act as accomplices. I am imagining that the texts in this exhibition will be removable so that people can take them when they leave, and perhaps the texts can act as an accomplice in this way outside of the exhibition. I want it to be an exhibition that makes a book.
AL: During my research, I came across an essay by curator Jessica Morgan, and she jokingly wrote that you are "an enemy of the museum," referring to the way some of your works morph across the period of an exhibition, confounding standard curatorial and archival practices. What is it like for you to grapple with these kinds of works for exhibitions?
GF: Sometimes it is easier in certain circumstances, and it really depends on the project and institution. The clarity of an idea can also make things easier. But when a work forms in relation to a place, it can be difficult because my process might be antithetical to the way museum staff are used to doing things, or I might be seen as actively working against them and what they consider to be a good job. The more I understand what is important to me in a particular piece, the easier it is for me to articulate this to the people I am working with. Sometimes the making of the exhibition is the process of trying to articulate something that you don't know how to articulate. What might appear to be resistance or uncertainty is more about finding the shape of an idea, of what is important and needed in the work. Or it is just the nature of it. This is an important part of how a work comes together.
AL: Sometimes your negotiation with the institution is very visible. Pale Fire Freedom Machine, for example, which was shown at the Power Plant in 2005, involved activities, like burning furniture in a fireplace and using the soot to print posters, that are not at all expected to go on within an art gallery. Would you say that testing the flexibility of the art institution is something you deliberately strive to do?
GF: No, it is never considered or deliberate. I just want to explore an idea and doing so feels natural, but it becomes a negotiation of what is possible and what is not. My ability to negotiate and figure things out becomes a reflection of what I am able to do in the end. And this becomes the exhibition. It is always coming from a place of excitement, possibility and potentiality.
AL: You were recently at the Watermill Center in New York for a residency, working with a programmer on self-generative image and sound montage systems, an idea you explored in the work Look in my face; my name is Might-have-been; I am also called No-more, Too-late, Farewell (2010–). Can you talk about your time there?
GF: I went to the Watermill because I was interested in Robert Wilson's early work, especially a work called KA MOUNTAIN AND GUARDenia TERRACE: a story about a family and some people changing. It was produced as part of the 1972 Shiraz-Persepolis Festival of Arts in Iran, and it was performed continuously over a seven-day period. I was there to research this and to think about how I could expand the horizon of my own work. It was really a productive time for me; even though I was only there for 10 days, it felt like a much more extended period of time.
AL: What is it in particular that draws you to Robert Wilson's work?
GF: I saw an exhibition that he mounted at the San Francisco Museum of Modern Art in 1992. There was a glass sarcophagus in the installation that moved across the ceiling on a wire. I remember an elephant's foot with a man sitting inside of it. What I realize now is that it was a mixture of elements from different productions, some of them props and parts of sets made for the context of the stage, not the museum. So in the museum, they had a strange sensibility. I realized that I knew so little about his work, except through stills, so I applied to go to the Watermill Center to do some research and be there to think about the survey exhibition in Vancouver. I knew about the seven-day play, but I wanted to know how something like that might be structured. How he worked, and what the parameters might be for a work like that, and how it played out. I'm still figuring this out, and I think it is going to take some time to understand exactly what I am interested in.
AL: And how has the research informed your work with programmed, self-generative montage?
GF: I found some understanding through this poem of Christopher Knowles, who had collaborated with Wilson and Philip Glass when he was very young on the mid-1970s operaEinstein on the Beach, and the poem in part is the repeated variations on a single line: "Emily likes the TV, because she watches the TV, because she likes it." I couldn't stop thinking about it, and in thinking about it, it released me, it gave me some kind of freedom. The self-creating montage, in my mind, works in a similar way, in that it is creating itself using variations on a single line, and in experimenting with the organizing principle of the images, some kind of freedom is found for me. I'm released from the work,
and the work has its own independence. Writing the script has become a kind of choreography, and what I feel I discovered at the Watermill is that this is enough. The film is what it is, and that is what it is.
AL: Releasing your authorship and giving the work independence must have an estranging effect. You also said earlier that your past works can seem like strangers to you. Is this feeling of estrangement something constant, even while a work is in the making?
GF: When I am thinking about a work, there is a lot of research and preparation and a kind of rationalizing of the process. But what ends up happening is mysterious, because where you think the work is going to be, it isn't, and then through so many decisions and non-decisions it just suddenly appears. It is totally unpredictable. It appears often seemingly by accident, but an accident that you work very hard to make. So it is always a feeling of estrangement, but a familiar estrangement, because you recognize it, and you say, ah, yes, that is it. But as soon as you try to make it, or think you know how to make it, it goes completely wrong, so then you destroy that, and then, boom: it appears again. Or not.