Casey Kaplan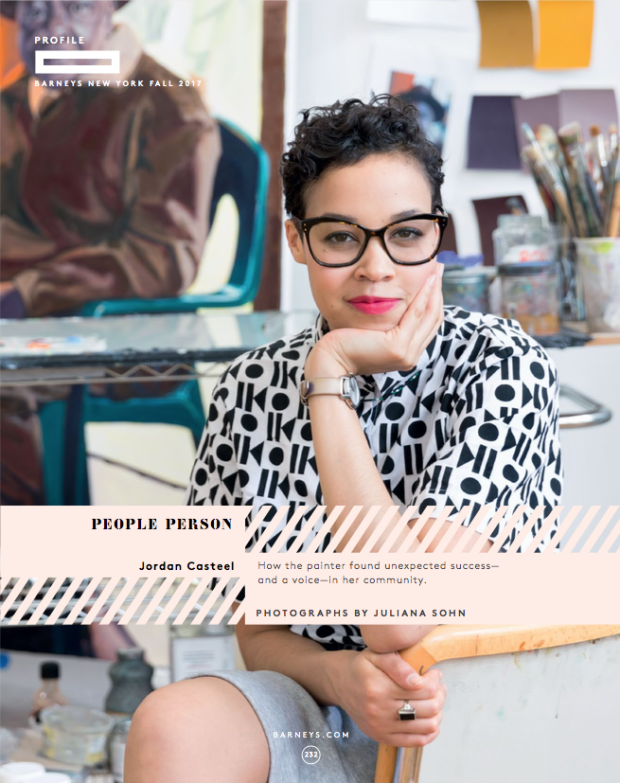 Photograph by Juliana Sohn
Jordan Casteel Featured in Barneys New York Fall Catalogue
When Jordan Casteel decided to go to art school, she and her mother sat down at a computer and googled "Best MFA in America." Columbia, Yale, and the School of the Art Institute of Chicago came up. With no formal training, Casteel, who grew up in Denver and studied at Agnes Scott College in Decatur, Georgia, applied to all three. "I put those long shots out into the universe and got a response back inviting me for an interview at Yale," she says.
Even then, her expectations were minimal. "I went in with the intention of being a learner—just to ask a lot of questions, so I was pretty relaxed," she says. It was only when she was waiting for her turn to interview, Casteel recalled, that "a girl came out before me, and she looked petrified, like literally crying. And I thought: 'Oh. Huh. I might actually be over my head.'
She wasn't, though, and after being accepted to and enrolling in Yale, Casteel hit on a project that she's continued ever since: painting deeply empathetic, searingly intimate yet reverential portraits of black men. Casteel's subjects stare frankly at the viewer. Young and old, nude and clothed, smiling or somewhat standoffish—each portrait is intensely, urgently personal.
She started out painting students at the Yale School of Drama. Today, her subjects range from friends and family members to people in her Harlem neighborhood who happen to catch her eye. "I was thinking about how I can represent them as people who I love and know intimately," she says. "How can people begin to see them as I see them?"
The impetus for the work was George Zimmerman's acquittal in the shooting and killing of Trayvon Martin. "I was just so distraught," she continued. "I thought, now it's time to merge social justice and art together, and build a meaningful dialogue." The socially charged series was almost instantaneously a success. After graduating from Yale, Casteel had her first solo show in New York at the gallery Sargent's Daughters, and then was invited to be an artist in residence at the Studio Museum in Harlem. This fall, she'll have a show at the Casey Kaplan gallery in New York, and in the winter of 2019, the Denver Art Museum will open a solo exhibition of her work. "It's not that I've had low expectations for myself," Casteel says. "But I have a lot of gratitude, because I never thought I'd be here."
-JONATHAN CRAIN