Casey Kaplan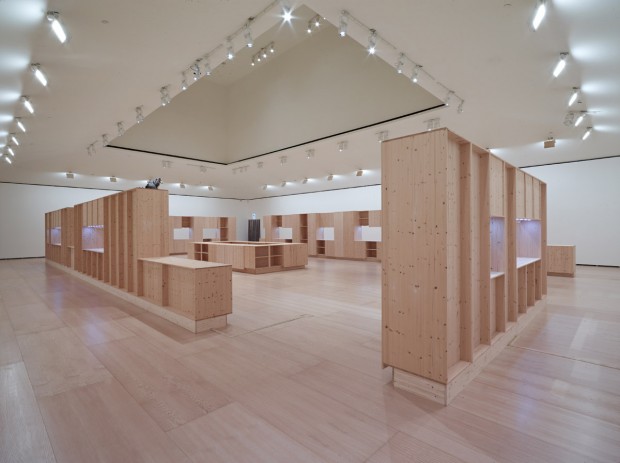 How are you going to behave? A kitchen cat speaks (How Are You Going to Behave? A Kitchen Cat Speaks), 2009
Wood, lamps, stuffed cat, text, door blinds, MP3 player
Dimensions variable
Guggenheim Bilbao Museo
LIAM GILLICK IN INHABITED ARCHITECTURE AT THE GUGGENHEIM BILBAO
Curator: Lucía Agirre
Borrowing from and reinterpreting Conceptual art and Minimalism, Liam Gillick's work is not confined to a specific form of artistic practice but ranges over his various activities as a critic, writer, designer, curator, filmmaker, professor, and visual artist. All of these diverse undertakings comprise his oeuvre, which is best considered in terms of groups of ideas with multiple layers or facets rather than individual objects.
In 1989 Gillick mounted his first solo exhibition, 84 Diagrams, at Karsten Schubert in London, presenting a series of drawings for buildings in the late Modernist style that were deliberately faulty or unworkable as architecture. Interested in "the ability to work fast and to process ideas rapidly," he used a computer program to generate the renderings at a time when such programs were first becoming accessible to the general user.[1] The following year Gillick began working with artist and writer Henry Bond on a series called Documents. For this project, the artists operated as a news team, working through a British press association and attending news events (press conferences, photography sessions, and so on) as reporters or photographers. The works that resulted-each comprising a framed photograph and text panel, sometimes accompanied by an audio recording-had little to do with journalism, however. Gillick has said: "For me the more interesting idea was to constantly shift between the role of the artist and the person who doesn't need cultural permission to get involved in a discourse that is activated and normally has professionalised borders."[2]
From September 20, 2012 through May 19, 2013, the Guggenheim Museum Bilbao is pleased to present Inhabited Architecture, a new exhibition of works from the Guggenheim Museum Bilbao collection that engages in a reflection on the concept of architecture and its ability to suggest a past or present created by us and our relationships with others. In this context, architecture is something that "embraces the consideration of the whole external surroundings of the life of man: we cannot escape from it if we would so long as we are part of civilization, for it means the molding and altering to human needs of the very face of the earth itself, except in the outermost desert," as defined in 1881 by William Morris, lead proponent of the Arts and Crafts movement. From this perspective, architecture is much more than just buildings or inhabitable structures; it encompasses cities, streets, furnishings—in short, everything created by human hands.
The show includes six works from the Guggenheim Museum Bilbao collection by five international artists that reflect on the occupation of space as a place of narratives that already exist or are on the verge of being created by the observer.
Several pieces are making their public debut at the Guggenheim Museum Bilbao in this exhibition: How are you going to behave? A kitchen cat speaks (2009) by British artist Liam Gillick; Untitled (2008) by Doris Salcedo; Home (1999) by Mona Hatoum; and Life Forms 304 (2003) by Pello Irazu. These are accompanied by two pieces by Cristina Iglesias, Untitled (Alabaster Room) (Sin título [Habitación de alabastro]) from 1993 and Untitled (Jealousy II) (Sin título [Celosía II]) from 1997.