Casey Kaplan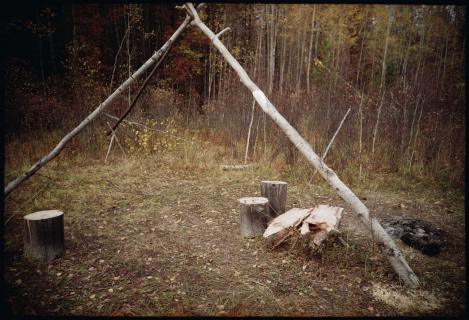 Still from Brian Jungen and Duane Linklater's Modest Livelihood (2012), courtesy the artists
Lori Waxman on Brian Jungen and Duane Linklater's Modest Livelihood
"Not a whole lot happens during the 50 minutes of "Modest Livelihood," a film that follows Brian Jungen and Duane Lin- klater on two hunting trips they took in northern British Columbia in the autumn and early winter of 2011.
This isn't entirely true, however. Try sitting in the forest for the better part of an hour. Say little. Look. On some level, a level that might be termed contemporary urban consciousness, hardly anything occurs. On other levels, though, a sunset explodes through long grasses; bare treetops dance in the wind; leaves of gold and fire clash against cool green pines; spindly trunks sway darkly against the setting sun.
If such understated naturalist observations were the whole of what "Modest Livelihood" conveyed, that would in a sense be enough. A 50-minute reprieve from traffic and cellphones and crowds and clocks ought not be rebuffed…"
The film is on view at the University of Chicago's Logan Center Gallery through February 3rd.