Casey Kaplan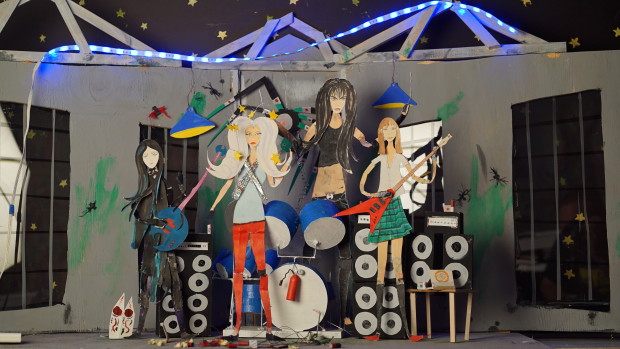 Pictured are The DRAMASTICS in their sweltering and malodorous rehearsal space working hardly on their new song "12FU". They mostly agree it sounds much better and venture out for snacks and a dust-up with their rival band the Creamin' Demons. Image courtesy the artist.

Nathan Carter's solo exhibition at the MCA Denver opens September 24
SEPTEMBER 24, 2016 – JANUARY 29, 2017
FALL OPENING RECEPTION: OCTOBER 7
Nathan Carter's solo exhibition,
 Ladies and Gentlemen, Meet The DRAMASTICS,
presents a dense display of sculpture, drawings, installations, and miniature stage sets centered on the story of 
The DRAMASTICS
, a fictional band comprised of four women. Presented in four galleries, the exhibition features colorful, handmade sets from imagined milestones in 
The DRAMASTICS'
 brief but legendary career, including an early rehearsal, recording session, breakthrough performance, and final break-up show in Paris. The sets are accompanied by a range of figurative and abstract drawings that reference not only the imaginary band but also the history of art and other imaginary narratives. One gallery presents band merchandise and a full-scale interactive stage with a fanciful sound system, and a rock and roller photo booth that invites viewers to both lip sync and act out their musical fantasies.
With the combination of stage production and works of sculpture and drawing, the exhibition brings together the fantasy of freedom symbolized by female punk rock bands with the tradition of art. Using a deliberately child-like and DIY style, Carter's drawings and sculptures embody a sense of play and imagination.
The artist's film THE DRAMASTICS ARE LOUD AF, accompanying the exhibition, will be screened at scheduled times throughout the exhibition.