Casey Kaplan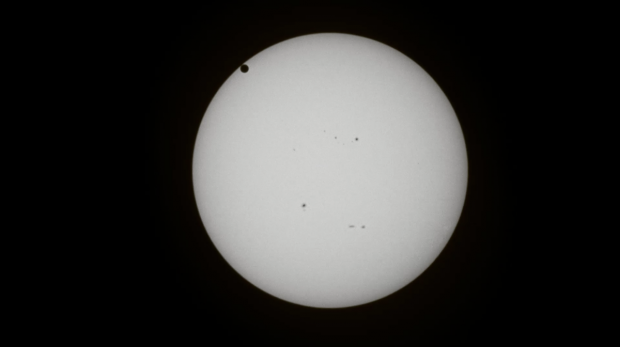 Simon Starling, Black Drop, 2012 (still).
Simon Starling at Radcliffe Observatory, in Collaboration with Modern Art Oxford
Black Drop
Radcliffe Observatory, Green Templeton College, Oxford
Black Drop, a new film by Turner Prize-winning artist Simon Starling, will debut at the Radcliffe Observatory, Green Templeton College, Oxford from 23 February.
This film, specially commissioned by Modern Art Oxford in association with Oxford University, responds to the rare planetary phenomenon of the transit of Venus and its relationship to the beginnings of moving image technology.
A transit of Venus took place in June 2012, and was only visible in its entirety from the mid-Pacific. The next transit will take place in 2117, making 2012 the last in our lifetimes. With the medium of film rapidly disappearing, Starling journeyed to Hawaii and Tahiti to film the transit and the sites of previous observations – Point Venus, Tahiti in 1769 and Honolulu in 1874 – documenting the last transit to be recorded using 35mm technology.  The intriguing story highlights how film emerged from early scientific exploration.
Responding to the origins of the Radcliffe Observatory, Starling's new film engages with the uniqueness of this historical site and its association with astronomer Dr.Thomas Hornsby, who observed the 1769 transit of Venus.
Black Drop 28 mins
Every Sunday and Monday, 24 February – 24 March
Saturday 23 February, 9 & 23 March
Friday 1, 15 & 22 March
All screenings will start promptly at 6pm
Booking is essential due to limited capacity.  Please visit Modern Art Oxford's website to book.
Simon Starling will give a talk on Thursday, March 7 at 6pm.